The Driving School for Indooroopilly Kenmore Moggill and western suburbs
At Brizwest Driving School, learning to drive is a series of fun activities. Each activity is paced and adjusted to suit you. Making progress through each activity often brings a smile of achievement as you progress your skills toward becoming a safe driver. We teach a System that helps you to become a smooth, safe & efficient driver.
It is easy to pass a Practical Driving Test if you're prepared !
Passing a Practical Driving Test should be no more than a milestone on the way to a lifetime of safe driving. Becoming a safe driver does not come from experience alone. A Learner needs to acquire many foundation skills, which are best taught right from the first days of Driving. Our Driver Trainers can teach the skills of driving which can then be practised with a Supervisor. Use the year and 100 hours wisely, and develop basic skills early so as to be ready to pass your Driving Test.
SPEEDING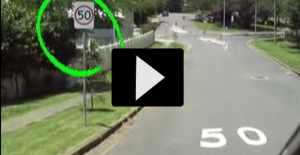 Speeding is a problem for many Learner Drivers. Why would a Learner Driver speed if they have learnt a technique to control speed ?
STOPPING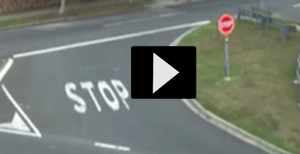 Many Learner Drivers dont fully understand STOP signs, and can drive through a STOP sign in their Driving Test. Why ? Watch the video and see how many people stop.
KEEP LEFT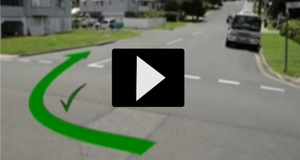 Driving on the wrong side of the road is often a problem in a Driving test. It is so easy to "Keep Left", if you learn early !
Steering is the smart start to Driving in Indooroopilly, Kenmore and Bellbowrie
So often we meet Learner Drivers with 70 or 80 hours logged and the first issue we see is poor steering technique. At this point the bad steering habits are so entrenched in the mind that they are very difficult to change, and the Learner Driver may even think that their steering is good. It is SO important in the first three hours of Driving to develop good steering technique and apply that good steering to road situations.
It is worthwhile having a good Driving School teach your Learner to steer correctly. Some Learners pick it up really quickly if they are taught well. Some Driving schools will tell you simply to hold your hands at 10 to 2 on the wheel, and don't cross your hands or put your hands inside the rim of the wheel. This information is useful, but does not teach you to steer.
A Driving school that can teach you to steer will give you an overview of the technique at the start. They will have tools with which to teach steering. For example, they could show you a video sample of steering methods or use a simulator steering wheel to demonstrate. Also, they should have a series of drills for you to practise the steering techniques . There are some great locations around Indooroopilly, Kenmore and Bellbowrie to practise these Drills. In addition the Driving Instructor would give you some notes or a handout to take home on this topic. If the Driver Trainer cannot offer this level of service, then you need to look elsewhere as steering is so important.
Driving School lessons at Indooroopilly are essential for beginners
It is a good choice to take a few driving lessons right at the very start of Learning to drive. With a good Driving Instructor, a Learner can progress much faster and learn the best skills of driving. With the faster progress, they have the skills earlier to blend into traffic around Indooroopilly and are able to do more complex journeys with a Supervisor. By having just a few early lessons, it is more likely the Learner will learn the correct techniques fairly quickly. If you can afford to drive a car then surely you can afford a few basic lessons on the path to safe driving.
Kenmore Learners need to be observant in the Driving School car
Of all the elements in Driving a car, Observation would likely rank as the most important. If you don't watch where you are going you will run into something. If you don't watch other people, they will run into you. Some Learner drivers only see the lane ahead, even when they have nearly logged 100 hours. Kenmore roads are very busy, particulary in the mornings and late afternoons. Learning good scanning techniques, takes some practice and you should learn to do this very early in your logbook hours.
Our Driving School in Bellbowrie has a Car Park drill
We frequently get Learners wanting to prepare for a Driving Test and we ask the Learner to Reverse into a parking Bay as you would at a Driving Test. You may be surprised how many Learners really struggle with this manoeuvre. One day a Learner surprised me how well they did a reverse into a parking bay. Some questions revealed that the Learner drove to the end of their driveway and did a three point turn to pickup the rubbish bin. This prior learning was put to use at the parking bay. Those Learners that spend a little extra time with us may get to do our pre-parking drill in Bellbowrie and Moggill. This drill teaches you how to NOT dry steer, which way to turn the wheel when reversing , when to turn the wheel, all round observation, controlling the car at low speed and judgement. You do all this without any other cars to bother you and gain many essential skills to use when parking. After this drill we may go to a real shopping centre and put all those new skills into practice. These Learners are the ones you see doing the great shopping centre parking when they first get their RED P-plates.
Driving Lessons across the Western suburbs of Brisbane - including :
Ashgrove
Sumner Park
Corinda
Taringa
Toowong
Westlake
Sumner
Sinnamon Park
Paddington