Driving School Pullenvale | Handbrake Elegance

At Brizwest Driving School we encourage learners to use the handbrake quietly. On a journey there may be many hill starts along the way and the handbrake ratchet can be quite noisy and a little irritating at times.
If you press the button in on the end of the handbrake at all times before moving the handbrake up or down the process can be very quiet and just as effective. To engage the handbrake - just push the button in and lift as far as needed and release the button so that it locks into place.
Allowing the handbrake to make a ratcheting noise can cause wear on the pin and the locking surface and all of this is not necessary. Maybe you could consider this and make it a habit to be elegant when using the handbrake in Pullenvale.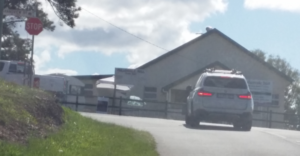 Handbrake Hillstart in Pullenvale
Several of the Driving Test Centres in Brisbane have a Stop sign on a hill and if you are driving a manual car and sometimes an AUTO car you will need to do a hillstart to avoid rolling back. If you are a Learner from Pullenvale this Stop sign is a great place to practice basic hillstarts and practice stopping just behind the line. If you wish to pass a Driving Test one day you must learn to stop correctly at places like this one.