Emergency Vehicle approaching Bellbowrie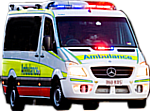 At Brizwest Driving School we find that Learner Drivers are not aware of their obligations to Emergency vehicles on their way to Bellbowrie.
If an emergency vehicle is coming towards the Driving School car and is sounding an alarm or showing flashing red or blue lights, you must move out of the path of the emergency vehicle as soon as you can do so safely.
You should:
- slow down
- move left to give the vehicle a clear run down the middle of the road. If you cannot move left safely, stay where you are and let the emergency vehicle overtake you
- not move your vehicle suddenly
- not drive into the path of the emergency vehicle
If you hear an alarm, watch out for emergency vehicles by looking ahead and in your rear vision mirrors regularly.
Roadworks around Bellbowrie
Lately there have been areas of roadworks around Bellbowrie to upgrade street corners and walkways on a regular basis. You need to look for the roadworks signs and slow down. While driving through the area you need to watch for changed conditions, such as bumps, roadworkers, rough surface and take care in this area. You also need to be ready to respond to directions from Roadworkers. Finally make sure you maintain your speed until the next speed sign.