Our Driving School Instructor covers | Toowong | Bardon | Rosalie
Our BrizWest Driving School Instructor for Bardon loves working in the area and will work with each student to ensure that they develop each element of driving at a pace that works for them. Some beginning students think that in the very first lesson they will be expected to drive and control the driving schools car. This is NOT at all the expectation. Only small elements of the driving process are given to the student at a time so they can manage their learning and move forward steadily to bring all the elements together at a pace that suits them. Our Bardon Driving Instructor is very familiar with the Bardon and Rosalie area and will choose quiet locations for the learning process so that the student can focus on learning to use the contols of the schools car.
The first element that most students need to work on is steering the driving school car. For many learners much of the first lesson will focus on steering the car in the Toowong or Bardon areas. It can take a while for students to understand that when you turn the steering wheel one way you will likely have to turn it the other way to bring the car back straight. There are quite a few good locations around Rosalie area that allow the learner to quickly master the art of steering the schools car.
Our Brizwest Driving School Instructor for Rosalie and Bardon area understands that some students can be very nervous about the first lesson and it will usually only take a few minutes for you to relax and start to have fun with the learning process.
The Roundabout connecting Bardon Toowong and Milton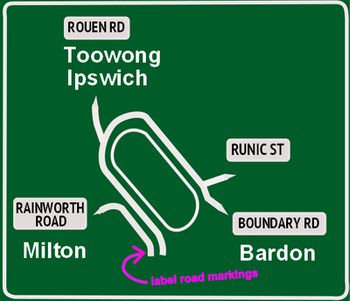 This roundabout in Bardon like many Brisbane roundabouts is not your typical textbook roundabout. The big green sign shown in the diagram is visible as you approach the roundabout and it is not there for decoration. If you haven't travelled this roundabout before this sign is your map for your journey through the roundabout. If you don't follow the map carefully, you may enter into a dangerous situation. Approaching from this direction, there is a right and left lane into the roundabout. If you want to go to Milton, you should enter in the left lane. As obvious as this may be, many Learner Drivers will struggle to take this onboard as they approach the roundabout. If you wish to travel to Toowong, you would enter in the right lane. There will be arrows on the road for each lane as you approach , but if the lanes are busy with a lot of traffic, it may be hard to see the painted arrows. However, by looking at the sign , you should be able to work out the shape of the arrows painted on the road. Perhaps take a few minutes with an experienced Driver and work out all the shaped arrows you would expect to find. If you are really keen to know if you'r right, you can use online satelite images to see if you are right. You will find similar big green signs on the other entries into this roundabout, which are there to assist you to enter the Bardon roundabout in the correct lane for your journey.
Bardon Roundabouts can play an important part in a Rosalie Practical Driving Test
Any Practical Driving Test from Rosalie will have a high chance of taking you to some challenging roundabouts. There are seven roundabouts in close proximity of the Rosalie CSC. Some are very small and some are large and complex. As part of learning to drive you should have experienced a variety of roundabouts, so that you can go into a new area like Rosalie and not have difficulty in dealing with those roundabouts. If you can't deal effectively with complex roundabouts then you may encounter difficulty at Rosalie. For the experienced Learner Driver, Bardon and Toowong roundabouts will not offer much of a challenge. Enjoy your drive through the beautiful Bardon suburb.